Fiesta Dog

Characteristics

Head
Corgi Dog with tongue sticking out
Body
Taco
Stream
Meat, Cheese, Lettuce, Tomato spilling out, Blue Rainbow
Music

Fiesta Dog!
Fi esta Dog aka by its old name, Taco Dog, is a Nyan cat spoof created by the official Nyan Cat's creator prguitarman1, and has been put on the official Nyan Cat video channel, "NyanCat".
It is a brown corgi dog with a taco for its body and has a blue rainbow trail with several bits of food  spilling out of the taco.
The blue rainbow goes darker in shade as it goes to the next color until it turns purple at the last color. Like the Nyan cat, the tail wags and the paws kick out backwards as the taco dog flies.
It flies to the song Mexican Hat Dance (Original Party Mix) by Arriba Brothers.
On the YouTube version at 3:16 the regular space background turns into all different colors of rainbow, and at 4:09 a spider in a sombrero named Fiesta Spider swings past. Fiesta Dog also appears on the Nyan.Cat website.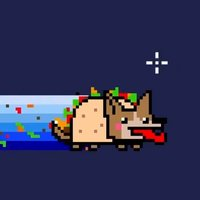 On the Nyan.cat version, the background is the same shade as the original Nyan Cat's. Also, Fiesta Spider does not appear. The background will also not become a rainbow, but can flash multi-colors only if the "Lower Volume" Easter Egg is triggered, but sadly, this only works on Archive.org (Wayback Machine) before August 2015 now.
The title of the page says "NON-STOP FIESTA DOG!" and the three options below it highlight in pink. The main picture saves as "Fiesta.gif" and the "Pick a Flavor" preview icon saves as "tacodog.gif".
The old version of the Nyan.cat page known back then as "Tacodog" can still be assessed:
Typing in /Tacodog after "Nyan.cat" brings you to the old page, but it is glitched and has a few things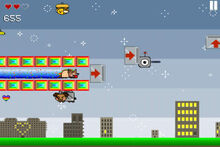 missing:
It uses the original rainbow instead of the blue rainbow.
The main gif image saves under the name "tacodog.gif" instead of "Fiesta.gif"
The title is stuck saying "NON-STOP NYAN CAT"
Fiesta Dog is badly detached from the rainbow
The old versions of various Nyan.cat pages can still be visited through the old urls.
Fiesta Dog also appears as a playable character in the game "Nyan Cat Adventure"
The taco dog spoof was created by Chris Torres, aka Prguitarman, the original creator of Nyan Cat.
Fiesta Spider, another non-nyan creature made by Prguitarman1 has a cameo in the video.
Fiesta Dog is the only other nyan besides Mexicanyan to have a taco for its body.
Typing in http:// www.nyan.cat/tacodog loads the old version of Fiesta Dog, but it is all glitched.