Melon Bird is one of the many spoofs of Nyan Cat.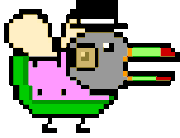 He is a bird with a black top hat and a monocle. He has a watermelon body and wings.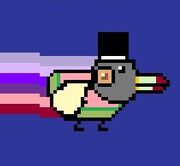 He has a multi-colored trail. He is also featured on the Nyan Cat app. Melon Bird has the same song as Nyan Cat. He has a purple streak trail that are different colors of purple.
He looks kind of like a toucan with a pigeon head. He is my FAVE non-cat variation that has the same song :D
Ad blocker interference detected!
Wikia is a free-to-use site that makes money from advertising. We have a modified experience for viewers using ad blockers

Wikia is not accessible if you've made further modifications. Remove the custom ad blocker rule(s) and the page will load as expected.