Mrs. Nyan Cat

Characteristics

Head
Russian Blue Cat Head
Body
Grape Jelly Poptart, purple sprinkles, grey feet and tail
Stream
Original Rainbow

Mrs. Nyan Cat
was a female Nyan Cat featured in
Nyan Cat Falls in Love
and in the video she met
Nyan Cat
and they fell in love.
There is also one video of her flying through space on YouTube made by "Daxterfan024" in tribute to her character.
She has a grape jelly poptart for her body, and just like Nyan Cat, she is a Russian Blue cat, but with paler fur. She also has eyelashes and purple cheeks.
Because of Mrs. Nyan Cat, many fans of Nyan Cat Falls in Love believe that Nyan Cat is a male, but Nyan Cat's gender is not yet officially known. Mrs. Nyan cat's real name is actually Violet SO her name is Mrs. Violet Nyan Cat.
Her story in Nyan Cat Falls in Love
Edit
Somehow she one day was locked in a cage together with birds and rabbits. Nyan Cat used his power and unlocked the cage.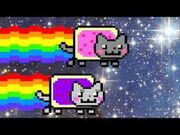 Nyan Cat and Mrs. Nyan Cat both fell in love, gone everywhere together.
Death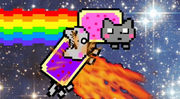 However one nice day they were flying together in space and Mrs. Nyan Cat was hit by a fireball then slammed into the sun. People theorize it was Tac Nayn the reason of her death.
Post-mortem
Edit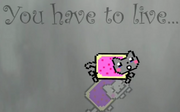 Nyan Cat then fell into a deep depression and tried to commit suicide by jumping off a cliff, but was saved by the spirit of Mrs. Nyan Cat and gave him reassurance and encouragement to continue for the sake of keeping the world happy. Then Nyan Cat was happily doing his business again for her sake
Tribute Video
Edit
Daxterfan024 made a video of Mrs. Nyan Cat flying through Space trailing a rainbow, just like Nyan Cat does. She flies to the normal nyan cat theme and has the exploding stars like the original video.
There is a theory that it was Tac Nayn that killed her by mistake by missing Nyan Cat (uh oh missingno!) with either a fireball, or himself.
There is only one other video featuring Mrs. Nyan Cat, and that is the tribute video by Daxterfan024.
Mrs. Nyan Cat's first name is 'Violet'.
Mrs. Nyan(or Violet) 's has a grandfather (of course) named Grandpa Ginger Salt.