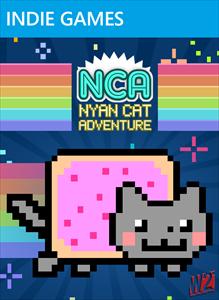 Nyan Cat Adventure or NCA is a game advertised on nyan.cat website.
Nyan Cat goes to adventure. Single-button arcade action meets the Internet's greatest Cat Meme, Nyan Cat! Super simple to pick up and play, starring all your favorite Nyan characters. It has 5 game modes packed and was made by the same developers who made Techno Kitten Adventure.
Ad blocker interference detected!
Wikia is a free-to-use site that makes money from advertising. We have a modified experience for viewers using ad blockers

Wikia is not accessible if you've made further modifications. Remove the custom ad blocker rule(s) and the page will load as expected.